Sound Sister Records is an artist label founded by Donna Maya, that is focused on a mixture of experimental electronics and underground techno. The Berlin based musician Donna Maya understands her music and audio-visual concerts as an artistic contribution to the political dialogue and demand for a diverse society based on solidarity.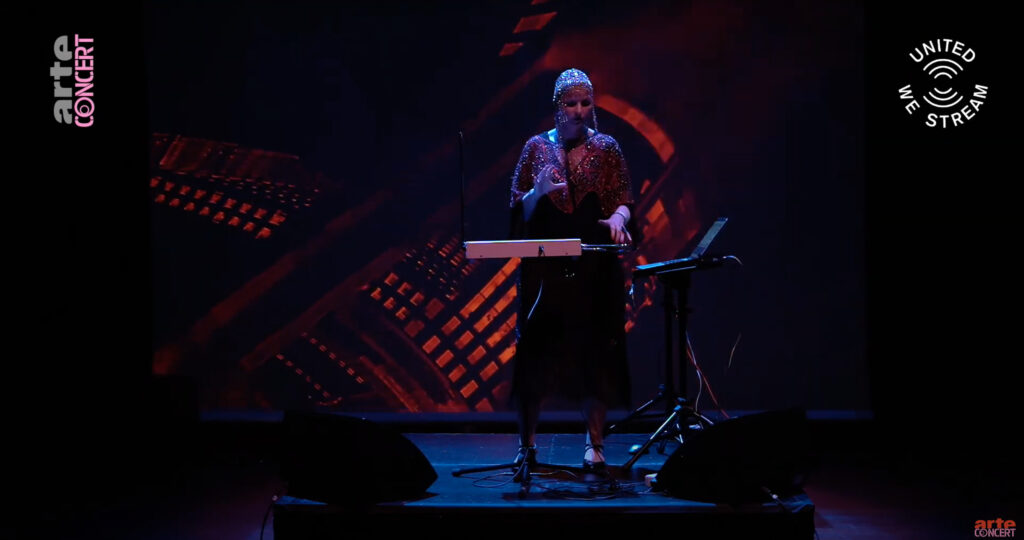 Donna Maya builds her sounds often on self recorded soundscapes from places that, from her personal perspective, deserve special attention. She experiments with the recordings and transforms them into sound sculptures combined with electronic beats. With her Theremin, she musically walks through these artificial-acoustic worlds and tells stories that create imaginary pictures and urges the audience to position themselves – urban electronics.
Donna Maya started as a dj. Later she became a sound engineer, moved to New York and worked as an audio engineer assistant at Unique Recordings at Times Square. After her return to Berlin she shifted her focus to producing her own tracks.
Donna Mayas first album project in 1998 was followed by further releases on vinyl and digital. In 2019 she released a track for the Sea-Watch solo compilation and another remix for Gudrun Gut on Monika Enterprise. She writes film music etc. for the soundtrack for the movie "Kurz und schmerzlos" by Fatih Akin, composes turntable concerts for chamber philharmonic and DJ and develops interdisciplinary performances. Her work led to invitations to perform at Transmediale in Berlin, Sonar Festival in Barcelona and the Pinakothek der Moderne in Munich.
With the founding of the artist label Sound Sister Records, she creates a platform to publish her compositions independently and regardless of commercial restrictions.
For more infos please check: www.donnamaya.de
Past releases from Donna Maya:
2021 Caro C: Dreamers for Elisa – Donna Maya remix, Caro C Bandcamp, Manchester, UK
2020, Donna Maya: Lost Spaces -> Detroit,
Vinyl album + digital album, Sound Sister Records, Berlin
2020: [U.G.O.] feat. Zephixx: Intoxication – Donna Maya remix,
Juma Rec. /Underground Road Rec., Madrid
2020 [U.G.O.]: eXistrance – Donna Maya remix,
Underground Road Records, Madrid
2020 Mila Chiral: Repetition Catches Chaos – Donna Maya remix @ Dead Groovy Music, Edingburgh
2020 baze.djunkiii & Donna Maya: Alien Swamp, vinyl,
Freebreakz.FWD, Hamburg
2019 Gudrun Gut: Baby I Can Drive My Car, Donna Maya remix, EP,
Monika Enterprise, Berlin
2019 Sea-Watch Soli-Sampler, V.A., digital, Kopfüber
2019 Never Expect, TAM TAM Skybar Compilation, V.A., Vinyl album + digital, Z Common Ground
2016 Natalie Beridze / TBA: Love is Winning, Donna Maya remix, EP,
Monika Enterprise, Berlin
2012 Nomads In Sound Volume 3, V.A., East-West Future Dub & Dubstep Compilation, digital, @ Meerkat Recordings
2008 female:pressure DVD 1, V.A. Film – Soundtrack Compilation, open:sounds
2008 Ostinato/ DJ Da Cut: Antiarcraft, EP, vinyl,
Rudel Records, Hamburg
2003 Maske EP, Bruchstuecke Nr.11, EP, vinyl, Bruchstuecke, (Kompakt)
2002 Bis auf weiteres eine Demonstration, V.A., CD, ZickZack, (Indigo)
2001 Operation Pudel, V.A., 2 x Vinyl, L´AGE D´OR, (Zomba)
2001 DJ Girl, V.A., CD, K-tel, USA
2001 Girlz in Space, V.A., CD, Higher Octave/Virgin, USA
1998 Kurz und Schmerzlos, V.A., Vinyl/ CD, Motor Music
1998 Stolz und Vorurteil, V.A.,CD, Flittchen Rec., (EFA)
1998 Murder Beats Vol. 1, Album, Vinyl, CD, Disko Grönland, (Indigo)
1997 Funkadelic Jazz Tunes Vol.1, V.A., vinyl, Hypnotic, Dänemark
1996 Sonic Speyes: Sweet Cherry, EP, vinyl, Lounge Records
1996 In II jahzz IV 3, V.A., Vinyl, Loose Ends/Columbia
1994 The Cook Monster, V.A, vinyl, Yo Mama, Hamburg